Different Forms of Help at Home in St. Louis, MO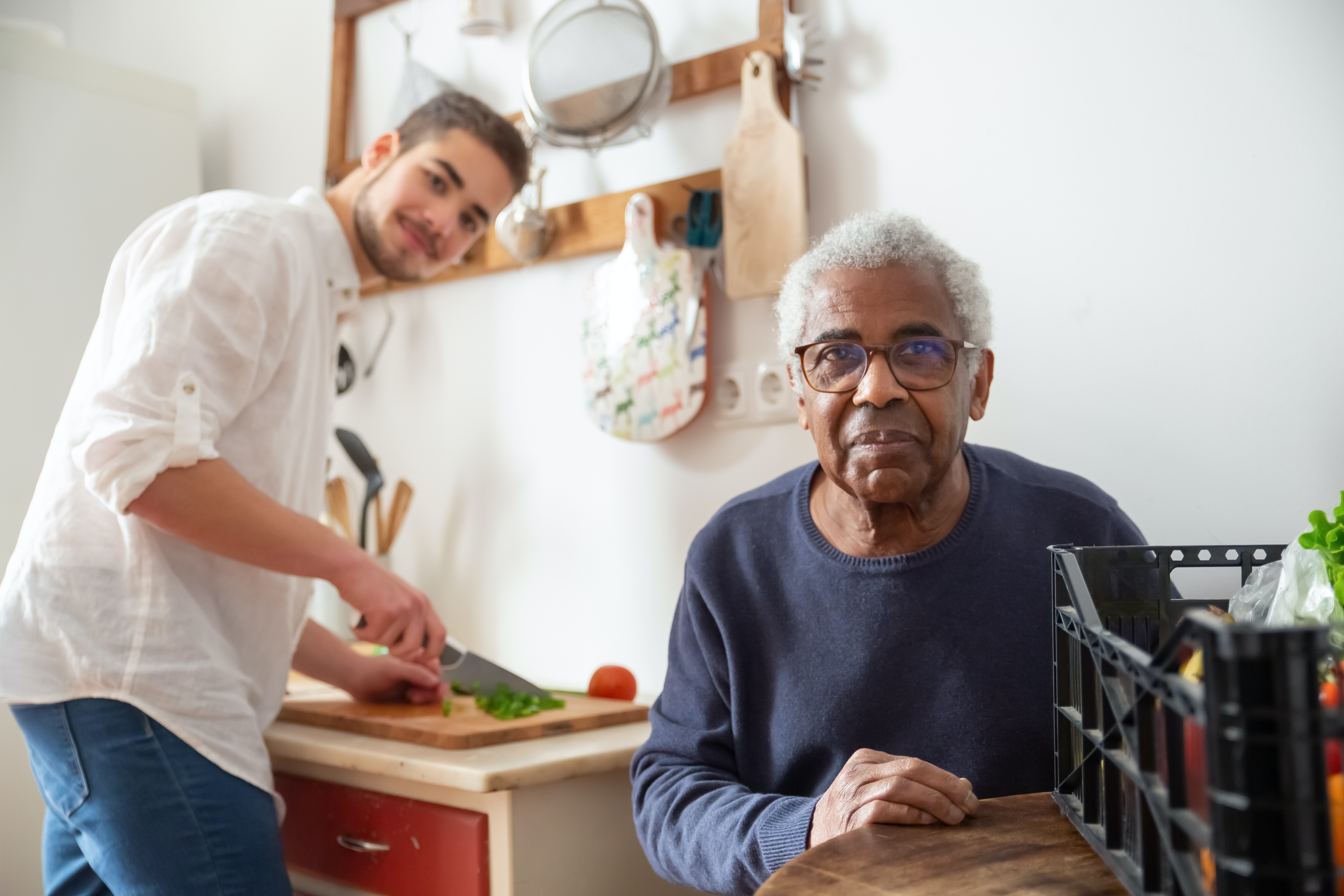 Caring for an elderly loved one can be an isolating experience. You might feel like you're all alone, trying your best to keep up with their needs but in over your head. Most of us do not have the training necessary to seamlessly step into a senior's life and provide all of the services they require. Unless you've got training in the area and you've got plenty of time on your hands, you're going to need some help at home in St. Louis, MO.
The great news is that if you know where to look, there are plenty of different organizations out there that will help your elderly loved one age in place. From meal delivery to St. Louis home care agencies, there are definitely options out there for you.
Before we get into the details of any of those services, though, we'll briefly touch on why keeping your loved one in their own home can be a great choice.
The Benefits of Aging in Place
Moving the senior in your life into an assisted living community or nursing home is always an option, but for many elderly folks, there are significant benefits to remaining in their own home as they age. That's why help at home in St. Louis, MO, is so important. In this section, we'll go over some of the reasons talking to St. Louis home care agencies first and trying to keep your loved one in their home for as long as possible is often the best option.
Continuity
This is an especially pertinent perk for those who need memory care. Being in a familiar place can be helpful, especially if the senior has lived there for many years. Bringing in help at home in St. Louis, MO, instead of moving them somewhere else could be a great choice for this reason.
Independence
Depending more on those around you is inevitable as you age. However, maintaining as much sense of independence as is healthy can be a huge benefit to a senior's mental health. Instead of taking them out of their home and putting them somewhere where they'll have less agency over their life, keeping them where they're comfortable and familiar can make them feel more empowered. Plus, getting help at home in St. Louis, MO, with St. Louis home care agencies can be tailored exactly to their needs. That means they can keep doing everything they can still safely do for themselves.
Community
If your loved one already has a great community around them, creating distance by moving them out of their home can be a detriment. Sure, they'll gain a different community at the nursing home or assisted living facility, but they'll still be more isolated from the outside world.
Cost
Although this one isn't a social, emotional, or physical health benefit, it's still an important one to consider, especially if you're going to be footing the bill for either a nursing home or help at home in St. Louis, MO. Hiring the services of St. Louis home care agencies is a lot cheaper than
St. Louis Home Care Agencies Can Help
Of course, St. Louis home care agencies are one of the top options for help at home in St. Louis, MO. A lot of the services we'll cover in later sections can also be handled by the caregiving professionals at St. Louis home care agencies.
If you're looking for a caregiver to come visit your elderly loved one at their home, know that form of help at home in St. Louis, MO, can come in several different forms. There are St. Louis home care agencies you can work with, or you can hire an independent caregiver. We've discussed the pros and cons of each approach in a previous blog post that you can read here if you're interested in learning more. But if you don't want to invest that much time, it's enough to know that St. Louis home care agencies will take all the responsibility of being an employer, but they also tend to be slightly more expensive.
Some of the possible services include companionship, medication management, light housework, personal care, and other daily functions.
Meal Delivery
A less-intense form of help at home in St. Louis, MO, is getting food delivered with a service like Meals on Wheels. This program delivers nutritious meals to those who cannot shop or prepare their own food. Entirely run by volunteers, Meals on Wheels is one way for elderly folks to get help at home in St. Louis, MO. If your loved one can no longer drive, has mobility issues, or has any other reason they cannot cook for themselves, Meals on Wheels might be a good option. You can check out their website and find out how to request their services here.
Proper nutrition is an important part of keeping seniors healthy, and not getting it can have some serious consequences. Unintentional weight loss is a major red flag among older adults. If you're noticing a change in appetite or your loved one is starting to look thinner, consider bringing it up with their doctor. It might be as simple of a fix as getting their meals delivered because they're struggling to cook for themselves, but it also might be a sign of a more serious health condition.
There is a whole host of reasons why a senior might not be eating as much as they used to — maybe they're experiencing pain when chewing or swallowing, maybe they're experiencing dementia-related paranoia around food, or maybe they've got something else entirely going on. Whatever the reason, it's worth checking into. Many of those reasons will go beyond what help at home in St. Louis, MO, can fix, but for those who struggle mainly with the accessibility of food, Meals on Wheels can help.
Grocery Delivery
This is one that many people can take advantage of, not just seniors. Grocery delivery is a service that's gotten exponentially more popular over the past couple years, and if your loved one's primary difficulty is lack of transportation, it can be a complete game-changer. This is also a minimally invasive form of help at home in St. Louis, MO. You don't have to let anyone in, but you can still
Like we talked about in the last section, making sure seniors get all the nutrients they need is an important, and sometimes challenging, part of caregiving. Meal delivery might be a necessary next step if getting groceries to your loved one isn't enough assistance. However, if they still enjoy preparing their own meals, then just making sure they have the raw ingredients they need can be a great way to help them continue doing what they love.
Professionals from St. Louis home care agencies can also help with grocery shopping and meal preparation, but getting all the ingredients delivered can be a way to make the process even easier.
Financial Management
Keeping track of your loved one's money might not be the first thing you think of when you're going over their daily needs, but it's definitely an important part of making sure they're taken care of.
Your options for financial management are pretty varied. You might hire a financial advisor, but there are also professionals like geriatric care managers and daily money managers who can be useful in these types of situations.
Transportation
One key element of help at home in St. Louis, MO, is actually the ability to get out of the house.
You've got several options when it comes to senior transportation services. If you choose to employ St. Louis home care agencies, then their caregivers can often drive your loved one to any appointments or other destinations, sometimes in your loved one's own vehicle. That can increase their sense of independence.
However, if you're not going that route, then you can pursue some of your other options. Contact your local transportation authority to see what programs are available to those who can't get around on their own.
Home Modifications
This step is an important one for anyone looking to stay in their home for as long as possible. There are likely many aspects of your home that could be potential hazards over time. For example, if you've got multiple stories to traverse throughout the day, the steps could get treacherous over time. You might not have to move, though — professionals in the field can help you make changes. Maybe you can move all the essentials to the main floor or install a stair lift.
Or, here's another common issue: Area rugs. If they're not affixed to the floor, they can be major tripping hazards. Making sure they're not going to slip around or just getting rid of them altogether can make a big difference in how safe your elderly loved one feels getting around.
Professionals in the field can examine your home and spot any safety hazards that might be present. They'll help you create safe paths through the most-used areas with their expertise. This is typically a one-time sort of help at home in St. Louis, MO, but as your loved one's abilities and needs change, it might be a good idea to have their home reinspected. Something that didn't cause any issues a few years ago might have become more problematic.
Scheduled Cleaning
Keeping your home spick and span under the best of circumstances can be a little tough, so having someone take over most of those chores as you age only makes sense. Hiring a cleaning service to come in and take care of the home on a regular basis can be the easiest way to make sure everything stays clean. This can be as often or as sparing as you like.
Again, this is something St. Louis home care agencies can help you out with. That's one of the benefits of hiring a caregiver through them: You can get lots of different services from one source. St. Louis home care agencies will do their best to match your loved one with the caregivers that will meet all of your needs, so you shouldn't have to employ a different provider for each of your needs.
Day Programs
Okay, we admit it, this one isn't technically help at home in St. Louis, MO. It can be a nice supplement to it, though, and it's definitely one way to help seniors remain in their own homes for as long as possible.
Adult day programs can fill in a care gap — if you can care for your loved one when you're off work, or you've got other care arrangements lined up for the overnight hours, but you don't have anything lined up during the day, these sorts of programs could be a perfect fit. They give seniors the opportunity to meet new people and make new friends among their peers, which can lessen their sense of isolation or loneliness. There are plenty of activities to keep your loved one occupied at these sorts of programs, so definitely look into them if your elderly loved one has an interest in getting out of the house.
Find the right help at home in St. Louis, MO.
This is all to say that help at home in St. Louis, MO, is not terribly difficult to find. There are plenty of programs and services that you can take advantage of if you go looking for them. The key is making sure you have the right mix of services for your needs. Some of the ones we've listed are more involved than others, and not everybody will benefit from all of them. Check in with your loved one to see what they actually need help with and what they still feel comfortable doing on their own, and consult with their doctor if you feel that's necessary.
If you need a place to start with St. Louis home care agencies, consider
reaching out to us
here at
Seniors Home Care
. We'd be happy to have a conversation with you about your elderly loved one's needs, and we'll do our best to fit a competent and compassionate caregiver to their specifications.

Join the Discussion
Seniors Home Care reserves the right to remove anything deemed inappropriate, off-topic or otherwise questionable; however, we have no responsibility to do so.