SHC University – A Great (Free!) Resource for Family Caregivers of St. Louis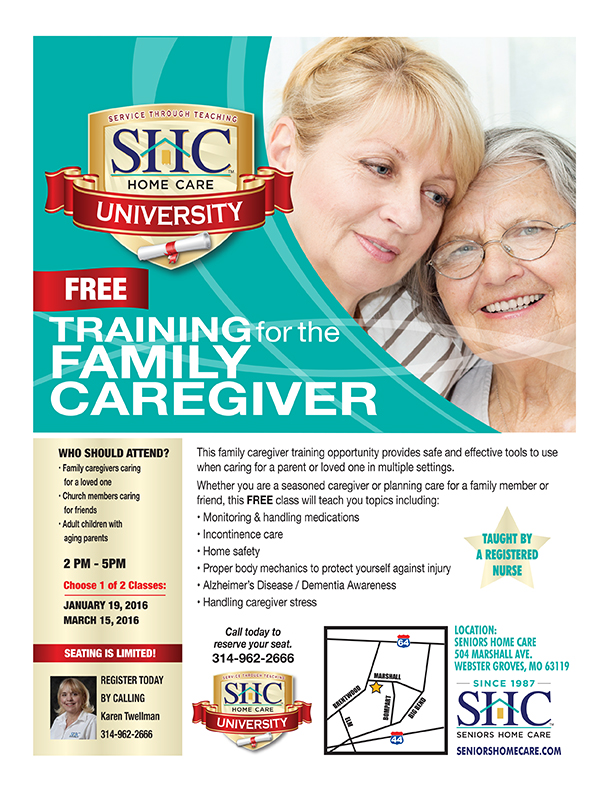 A recently released study from the PEW Research Center found that there are more than 40.4 million unpaid caregivers of adults ages 65 and older in the United States.

As our population ages, many adult children are finding themselves providing care for aging relatives and friends.

Family caregivers are the foundation of long-term care and aging in place. Unfortunately, many family caregivers are thrown into the role without much of a choice or background experience.

We created SHC University to provide education and support to families and caregivers through practical and interactive training by professionals. During the free, three-hour course, Nurse Alice shares tools to use when caring for an elderly loved one.

Topics covered include:
Monitoring and handling medications
Incontinence care
Home safety
Proper body mechanics to protect yourself against injury
Alzheimer's disease/dementia awareness
Handling caregiver stress
This is a fantastic opportunity to get insight from an industry veteran with a passion to help and advocate for the senior population.

There is still space available in our upcoming class on Tuesday, January 19, 2016 from 2:00pm to 5:00pm. If you would like to attend or have further questions, please contact us to reserve a seat.
Join the Discussion
Seniors Home Care reserves the right to remove anything deemed inappropriate, off-topic or otherwise questionable; however, we have no responsibility to do so.