Seniors Home Care Rides At-Home Nursing Care Wave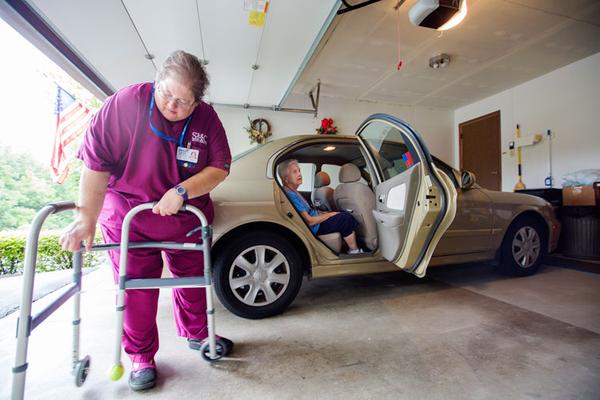 In a recent article about the growing home health care field, the St. Louis Business Journal recognized Seniors Home Care as an exemplary agency. We are proud to be recognized as a leading resource for families and professionals searching for long term care information in the St. Louis area.
The following article was written by Samantha Liss of the St. Louis Business Journal.
Rose Marie Westermann relearned how to walk down the stairs last week in her Ballwin home after breaking her pelvis in two places a few months ago.
To make sure she was healing from the fall and regaining strength to do everyday tasks — like walking up and down her stairs — an array of home health care aides, including a physical therapist, came a few times a week to work with her.
Westermann and others like her are fueling business for Seniors Home Care based in Webster Groves where revenue has ballooned 66 percent since 2010, reaching $3.2 million in 2012. Ryan Whittington, director of operations, said Westermann's experiences are similar to his other clients. Usually for them, it's not time to move to an assisted-living facility or nursing home, but a patient like Westermann just needs more help either after a fall or because of the onset of aging, he said.
And as baby boomers demand more health care services as they age, it's expected that this home health care sector will experience 70 percent job growth in the next decade, outpacing the national average for all other jobs, according to a U.S. Bureau of Labor Statistics Occupational Outlook Handbook.
"Elderly and disabled clients increasingly rely on home care as a less expensive alternative to nursing homes or hospitals," said the BLS report. "Clients who need help with everyday tasks and chores, rather than medical care, can reduce their medical expenses by returning to their homes."
It's also less expensive both nationally and in Missouri to receive home care than to live in a nursing home. The median hourly rate charged in Missouri for a home health aide is $113, more than the $19 per hour national median, according to a Genworth 2013 Cost of Care Survey.
The median daily rate for nursing home care is $145 in a semi-private room in Missouri and $159 in a private room.
It's back to business as usual for Westermann, though. She finished her last physical therapy appointment last week and said she was glad she was able to utilize in-home care.
Unfortunately, Whittington said, the elderly who skip on home care when needed usually end up confining themselves to living on just one floor if they have a two-story home.
Join the Discussion
Seniors Home Care reserves the right to remove anything deemed inappropriate, off-topic or otherwise questionable; however, we have no responsibility to do so.