Professional Caregivers - Who are you leaving your loved one with?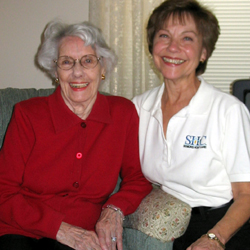 When choosing a home care company, you should be looking at the caregivers who they employ. The person you talk to on the phone or at a trade show may do and say all of the right things, but how do you know your loved one will receive the best care.
Rightfully so, I am often asked to describe our caregivers. I frequently use words such as caring, trustworthy, dependable and capable - the same words our clients use in their testimonials.
Training and orientation of caregivers in the state of Missouri and nationwide goes somewhat unregulated. There are no specific guidelines or regulations that exist when it comes to training home care caregivers in the home setting. It is very important to Seniors Home Care that we belong to national organizations such as the National Private Duty Association. The NPDA sets and implements guidelines for its members to follow including best practices when hiring employees.
Questions You Should Ask Potential Home Care Companies:
What qualifications do your caregivers have?
How do you train your employees?
Are your employees bonded?
At Seniors Home Care, we realize that to provide the best possible home care, we must employ the best possible caregivers. One phrase commonly heard by Kit Whittington, SHC founder, is that "we can teach a caregiver skills such as making a bed, using a hoyer lift or monitoring diabetes but we can't teach them to be compassionate, honest and trustworthy."
If you are considering hiring a home care company, I would encourage you to download our Professional Caregivers Form to use as a reference tool.
Join the Discussion
Seniors Home Care reserves the right to remove anything deemed inappropriate, off-topic or otherwise questionable; however, we have no responsibility to do so.